Camden Public Library 2017 Summer Reading Program
The summer reading program is now official over.  We would like to give a special thanks to our sponsors for assisting the library with support to encourage our participants in their endeavors to reach their reading goals.  A big thanks goes to Vital Signs of Camden, McDonald's of Delphi, Dairy Queen of Delphi, The Blue Moose of Delphi, Pizza Hut of Delphi, and Lafayette Aviators. The final prize winners are listed as follows: Kindle eReaders:  Teen:  Joselyn Redmen and Cassie Pettiner (not shown in photo); K-5 Colton Appleton and Izabelle Slaughterbeck; Bicycles:  Isabelle Hinojosa and Griffin Michael.
Camden Youth Parade
The Camden Library placed an entry in the Camden Youth Parade.  A special thanks to VitalSigns for updating the parade banner and to Any & Pam Robison for driving for the library.  Thank you!

---
2017 Patron Survey
The library is holding a survey to receive your feedback.  For further information, please click here.
---
Eiteljorg Museum Pass
A pass is no available for the Eiteljorg Museum.  For further details, please click here to visit our Events page.
---
Carroll County On the Same Page 2017
Camden, Flora and Delphi Public Libraries are collaborating for a county-wide book reading event.  Copies are available at the front circulation desk.
---
Camden Public Library 2017 Summer Reading Program
May 27th-July 15th
Sign-Up Week May 27th-June 2nd
Programs run every Wednesday at 4 P.M. with refreshments served directly afterwards
---
Ronald McDonald Is Coming!
Get ready for Ronald McDonald and Summer Reading 2017!  Ronald is coming to join us for the final Summer Reading program on Wednesday, July 12th at 4 P.M.  Sign-up week begins May 27th and the Summer Reading Program runs until July 14th.  Every Wednesday at 4 P.M. a program will be offered with a snack time following directly afterwards.
---
National Library Week Tour
April 9-15th is National Library Week for the year 2017.  The library was visited by the Camden Early Childhood Center pictured below.  The group participated in story time, a scavenger hunt and received a demonstration on how library processes take place.
---
Harry Potter Display
There is a new Harry Potter paper flyer display being presented in the Teen Room.  Below you will find thumbnails of select pages of the Harry Potter book from which the flyers were taken.  Pages offer information about the characters or flyers held on display.  A special thanks goes out to Pam Robison for the assembling and hanging of the flyers.  Please stop by the front desk and let us know what you think!
---
WIFI 'HotSpot' Updated
The area with the Online Public Access Catalog that is known as the libraries "HotSpot" just got a new update.  The library is now offering an additional computer station and seating area equipped with the capability for charging technical equipment enabling users of WIFI a chance to charge their equipment while utilizing the WIFI access for internet services.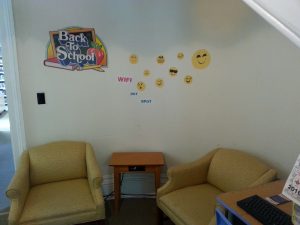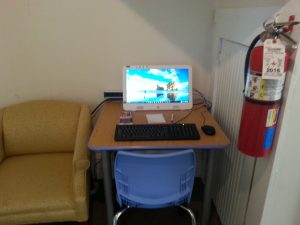 New Computers Installed
The library has acquired new computers with the assistance of Carroll White REMC's Operation Round Up Grant.  The computers are also equipped with Microsoft Office 2016 and protected with Norton with the assistance from TechSoup.org, an organization that assists non-profit organizations in receiving donations that are technologically based.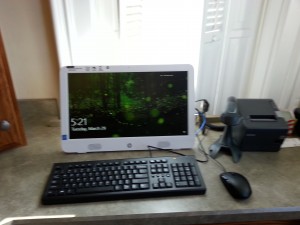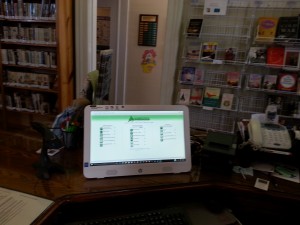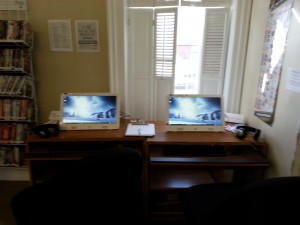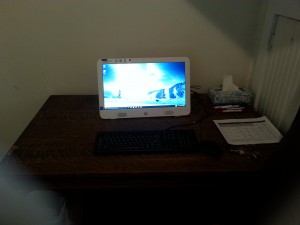 Indiana State Park Pass Available
In honor of the State Park Centennial a partnership between the Indiana State Library and the Indiana State Parks has been arranged in order to provide libraries with an annual pass that may be checked out in your local library.  Check out time runs to December 31st.  To view the Department of Natural Resources (DNR) website for further information, please check here.
Library Landscape Project
Before
 After
 
 Service Provider Change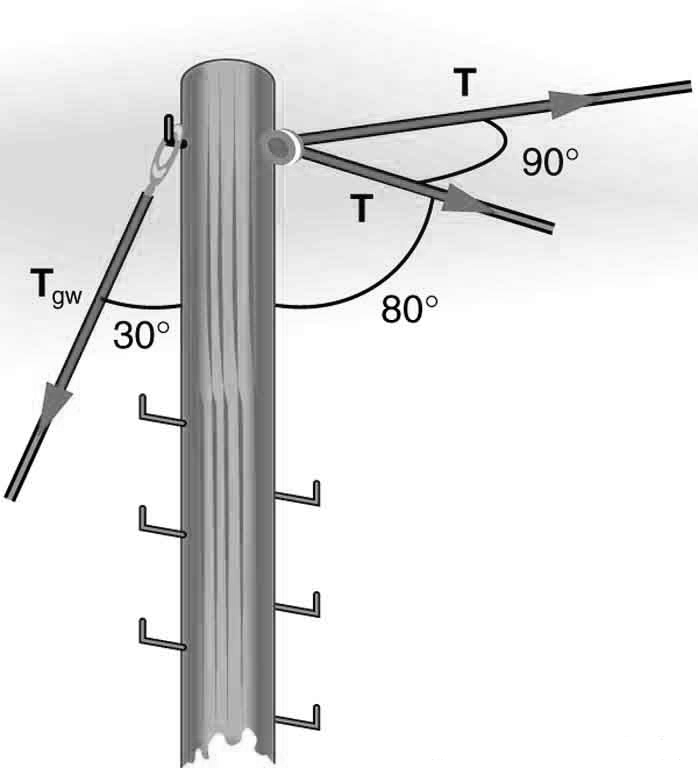 The library has had a change in service.  This brings about a change in our contact numbers.
The new phone number is (765) 201-4745.
The new fax number is (765) 201-4747.
Camden Library Recipient of Two Grants
Carroll County Community Foundation's Charitable Dreams for Community Needs has assisted the library in obtaining its Bike Rack Safety & Security Project goal by providing the funding to purchase a new 5 bike capacity bike rack.  The bicycle rack is soon to be installed at the west entry of the library.
The Carroll White REMC's Operation Round Up has assisted the library in obtaining its Technology Advancement goal by providing the funding to purchase a new laptop with HDMI port capability in order to provide live streaming for presentation purposes.  The laptop is available with a deposit which is reinstated when the equipment is returned intact.